The Greensboro Four (North Carolina A&T College, 1960)
The sit-in movement used the strategy of nonviolent resistance. As far back as 1942, the Congress of Racial Equality sponsored sit-ins in Chicago, as they did in St. Louis in 1949 and Baltimore in 1952. In August, 1939, African-American attorney Samuel Wilbert Tucker organized a sit-in at the then-segregated Alexandria, Virginia, library. Tucker would continue his efforts of desegregation by inspiring four men to execute one of the most instrumental actions in Civil Rights history.
Four men: Ezell Blair, David Richmond, Joseph McNeil, and Franklin McCain organized the first "official" sit-in of the Civil Rights Movement. On February 1, 1960, the four students from
the
Agricultural and Technical College of North Carolina
sat at the lunch counter at Woolworth's in Greensboro, NC and ordered coffee
iFollowing store policy, the lunch counter staff refused to serve the African American men at the "whites only" counter and the store's manager asked them to leave.
The men r
efused to move until the store closed. The next day, they recruited more than 20 students to join them, asking them to dress professionally, sit quietly, and leave every other stool available for any White supporters who might be inspired to join the cause.
A statement issued by Woolworth's national headquarters said the company would "abide by local custom" and maintain its segregated policy.
On day three, more than 60 students were involved. On the fourth day, 300 people came out and also spread the boycott to the lunch counter at a local Kress store.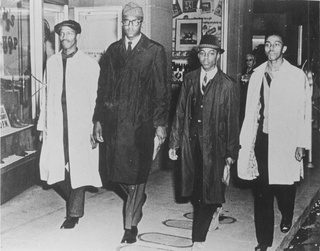 By the second week of February that year, students and activists in other Southern cities, including Raleigh, Richmond and Nashville copied the Greensboro Four's efforts. By July 1960, all Woolworth's lunch counters were desegregated. The sit-in helped increased national sentiment and word quickly spread.
As early as one week after the Greensboro sit-in had begun, students in other North Carolina towns launched their own sit-ins. Demonstrations spread to towns near Greensboro, including Winston-Salem, Durham, Raleigh, and Charlotte. Out-of-state towns like Lexington, Kentucky also saw protests.
The movement then spread to other Southern cities including Richmond, Virginia, and Nashville, Tennessee where the students of the Nashville Student Movement had been trained for a sit-in by civil rights activist James Lawson and had already started the process when Greensboro occurred. Although the majority of these protests were peaceful, there were instances where protests became violent.
For example, in Chattanooga, Tennessee, tensions rose between blacks and whites and fights broke out
.
As the sit-ins continued, tensions grew in Greensboro and students began a far-reaching boycott of stores that had segregated lunch counters. Sales at the boycotted stores dropped by a third, leading the stores' owners to abandon their segregation policies.
Black employees of Greensboro's Woolworth's store were the first to be served at the store's lunch counter, on July 25, 1960. The next day, the entire Woolworth's chain was desegregated, serving blacks and whites alike.
I know we have spotlighted these gentlemen before but there story is worth telling again.
Talented Generation Salutes the "Greensboro Four": Ezell Blair, David Richmond, Joseph McNeil, and Franklin McCain!!!!