Master Diver Carl Brashear
"I ain't going to let nobody steal my dream!"
In case his name sounds familiar it is because his life is the inspiration for the movie
Men of Honor
starring Cuba Gooding, Jr.
Men of Honor
is t
he story of Carl Brashear, the first African American, then also the first amputee, US Navy Diver and the former master diver, Billy Sunday who trained him. I saw the movie again this weekend and was moved to find out more about the man behind the plot.
Brashear enlisted in the United States Navy on February 25, 1948, shortly after the Navy had desegregated. His determination began with his will to overcome the usual menial jobs handed to African Americans. He graduated from the U.S. Navy Diving & Salvage School in 1954, becoming the first African-American to attend and graduate from the Diving & Salvage School and the first African-American U.S. Navy Diver.
Life in the Navy was not easy for Brashear as officers and instructors did everything in their power to get him to quit. Brashear was motivated by the struggle of his sharecropping father who, in the movie, told him
"When it gets hard, and it will don't QUIT on me! EVER!"
He ignored people who told him the Navy diving school wouldn't take a colored diver. He muted the people who told him he would never become a master diver. His determination to succeed was breath taking. He realized his purpose early in his life and he refused to waiver. He refused to give up or allow anyone to thwart his success.
On March 23, 1966, while attempting to recover a bomb lost in a collision between
B-52 bomber and a KC-135 (tanker)
tragedy struck.
At the time, Brashear was assigned to recovery duty on board the Hoist.
After they managed to grab the submerged bomb and attempted to bring it to the surface, the bomb slipped when a lifting cable broke.
Pipes shifted on the Hoist's deck, the rigging snapped, causing Hoist to slam into a nearby boat. Debris whipped round the deck. It was a real catastrophe. A cleat broke loose and caught Carl on his left leg, pulling it off just below the knee. In a short time after the accident, Brashear elected to have his leg amputated from below the knee.
After the amputation, Brashear was decorated with the Navy and Marine Corps medal for heroism in saving lives.
Peep one of thee most powerful scenes in the movie:
"Cot dammit cookie move your ass, I want my twelve!" It made me wanna take 12 steps. The scene above is the Hollywood version of the culmination of everything Brashear did to prove that he could stay in active duty after his leg was amputated. Billy Sunday is actually a fictional character and he is a combo of at least three different people Brashear met in his past. In reality, Brashear was asked to put up a demonstration including
a MKV rig every day for a week and they made him walk around on the surface in a complete helium rig weighing 290 pounds!
Another test involved Carl haven to show that he could still climb a ladder with the weight equivalent to two scuba tanks strapped to his back.
In 1968 the decision was made that Carl could stay on active duty. He would continue his service for another 12 years on 5 different duty stations.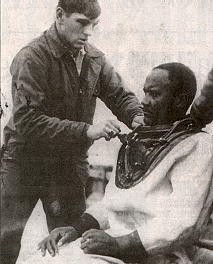 Brashear was also the first African-American U.S. Navy Master Diver and the first amputee diver to be certified or re-certified as a U.S. Navy diver.
His determination allowed him to see his drams of becoming a Master Diver come true in 1970. He was the first African American Master Diver.
Brashear also has a United States Naval ship named in his honor, an extraordinary exhibit hall in the Nauticus Maritime Center in Norfolk, Virginia, a state of the art firefighting vessel named in his honor, serving on the James River in Newport News Virginia, and a brand new Conference Center located on the Little Creek Amphibious Base in Virginia Beach, Va.
Brashear retired from the U.S. Navy on April 1, 1979 as a Master Chief Petty Officer (E-9) and Master Diver. He then served as a civilian employee for the government at Naval Station Norfolk, Norfolk, Virginia and retired in 1993. After he passed away in 2006, his sons began to work Carl Brashear Foundation.
ASNF: A son never forgets and neither does a daughter!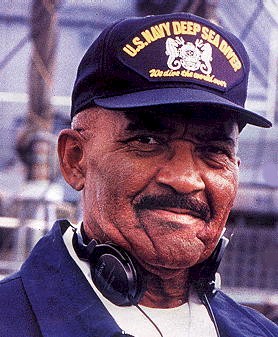 Talented Generation Salutes Carl Brashear!